This page was originally static content on my website. I have incorporated it into my blog, entry dated the last time I believe it was edited, as a more appropriate place to archive old things like this.
A few notes on the computers I use regularly.
Desktop: Zephyr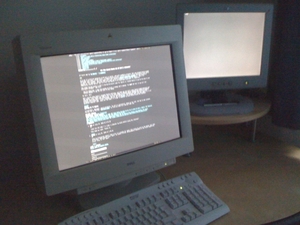 My primary machine. I built zephyr to high specs so that I can play games on minimal graphical settings for as long as possible, and it's going well so far, creating an immersive experience single player or at LAN parties. Accompanied by some nice speakers, and an ancient keyboard since the one I got with it broke and I found this gem in the loft.
I am still amazed at how cheap my 22" monitor was, at just £21 from eBay. (Picture out of date — I now have a flatscreen primary monitor.)
Self-built tower :: Arch Linux, Microsoft Windows 7 Ultimate :: 3.0GHz Intel Core 2 Duo :: 4GB Ballistix DDR2 memory :: 500GB 7200rpm :: nVidia GeForce 8800GT 512MB GDDR3 :: 1950x1080 primary LCD, 1024x768 secondary LCD
Laptop: Artemis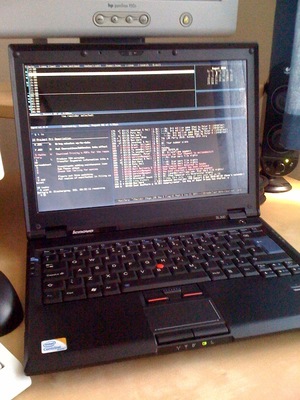 I wanted to get a ThinkPad as my university laptop due to the quality of their keyboards and general build. I think, though, that I made a bad choice in getting a new high-spec consumer-orientated one: I would have been better with an old, second-hand business-orientated classic ThinkPad since I don't really need its power, and this one was quite expensive. The glossy screen annoy me, too. But all things considered I'm very happy with this machine.
Lenovo ThinkPad SL300 :: Arch Linux :: 2.1GHz Intel Core 2 Duo T6570 :: 2GB DDR2 memory :: 250GB xxxxrpm :: nVidia something-something :: 1280x800? shiny TFT
Server: Athena
?athena.jpg
My rock in the digital world, my VPS Athena is considered to be my most important machine. It runs my persistent processes like my IRC client, serves all my mail, tunnels traffic and hosts a VPN, hosts multiplayer games, is a shell and mail server for a couple of other people, and more. Athena is a carefully configured, mean serving machine.
Xen DomU :: Status :: Debian GNU/Linux 6.0.1 :: 360MiB memory, 300MiB swap :: 25GiB HDD
NAS: Hestia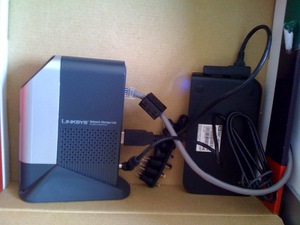 My trusty NSLU2 has recently been resurrected after around a year in storage after I replaced its power supply. It's going strong thus far as a useful way to access and make use of my external HDD. A great device you can leave on all year round since its power usage is so low. I've carefully configured its setup to work well with its limited memory.
Linksys NSLU2 :: Debian GNU/Linux 5.0.4 :: 266MHz ARM Intel XScale :: 32MB memory :: 120GB WD Passport USB HDD