Today's Guardian has one of Balliol's History finalists on the front:
Oxford University diversity row: 'Grades aren't enough' | The Guardian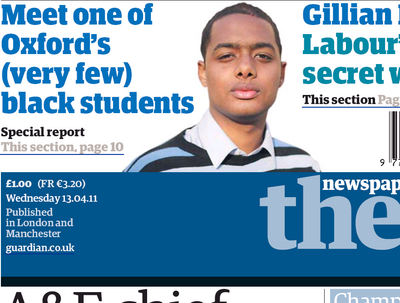 Oxford University aren't happy with this and for once the students' union is with them:
Ignore the politicians: for the real story about admissions and applicants from minority groups, go to <http://bit.ly/hYvGvS>. —@ousunews
Sure, Oxford's access is far from perfect and is maybe too reliant on students (the Target Schools scheme is an effective approach). But it's really not Oxford's fault that there is such a low proportion of ethnic minority students, it's the fault of our divided education system with its rich private schools full of white teenagers who get coached in Oxbridge admissions. The situation in Oxford is reflective of the country's unequal education provision.